Present from Lithuania
Bring home a particle of Lithuanian taste and if you are asked where you were, if you liked it, you simply say:
– And let's make ourselves coffee or tea, you will taste, and we'll chat about everything.
Special taste. Offers for groups and individual clients.
tel. +37069061010 , info@kibinaivilniuje.lt, www.trakukibinai.lt
We speak Lithuanian, English, Polish, Russian.
For a gift we recommend:
– Homemade Lithuanian sakotis

1kg – 27,50 Eur (serving from 200g tо 5kg)

The best composition: wheat flour of the highest quality, real butter, sour cream, eggs, vanilla sugar. Everything is real and tasty.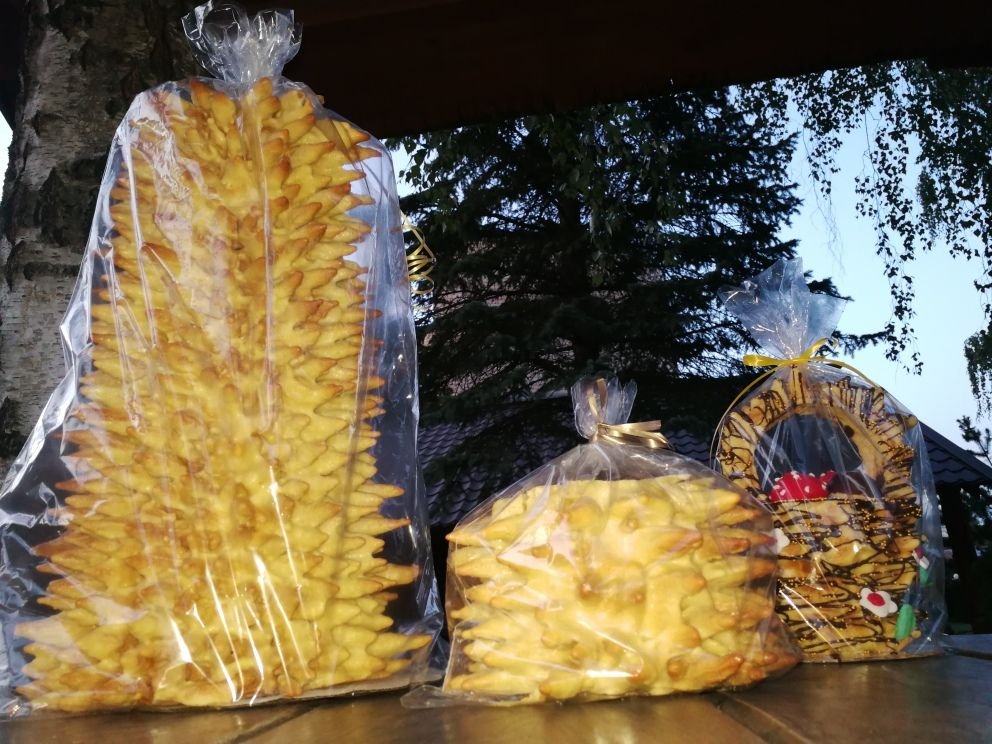 – Real simtalapis
1 kg – price 27,50 Eur,  simtalapis
Different packing according to your wishes.
The best composition:
– Box of real mini kibinai
50 pcs. – 78,40Eur
Kibinai "for a few bites" (selectively with: meat minced pork, cottage cheese and spinach, sausage, cabbage, mushrooms, delicious air curd, raisins or bananas).
– Natural honey from a reliable beekeeper
Honey in a jar: 350 g
Honey in a jar: 700 g
Honey in a jar: 1,4 kg
Pollen: 150 g
Bee bread: 150 g
Honey in a honeycomb: 350 g
About honey
Honey is the oldest product of all that is known to humankind. Honey is a unique natural product that is a durability product. Honey is very beneficial to health; it is not only a good savory but also a healing remedy. It is the universal remedy. The healing, wonderful properties of honey were known in ancient times. At present, the properties of honey are well researched and widely used for the prevention and treatment of various diseases. Due to its medicinal properties, honey is widely used in the treatment and prevention of diseases in folk and traditional medicine. Honey is an excellent therapeutic agent used for the treatment of wounds and burns with cardiovascular system, kidney, liver and gall bladder, and gastrointestinal diseases. Honey gives strength. Due to the presence of iron and manganese, it is highly beneficial for honey as it increases hemoglobin in the blood. In addition, known as soothing properties of honey, it soothes the nervous system and is a great tool for insomnia. The nerve system works only positively, since glucose, fructose and other substances derived from honey are involved in regulating the nervous system, have a sedative effect, improves cellular nutrition, enhances oxidative processes, reduces nerve endings, optimizes nerve and mental tone, improves sleep and memory and increases the threshold of mental fatigue because of honey the head and other nervous diseases are very easily curable. Honey is beneficial for the prophylaxis and treatment of certain eye diseases (especially cataracts), which is a product that increases immunity. Honey is an antibacterial, antifungal and antiviral agent. Useful honey properties are determined by the biological origin of honey and its complex chemical composition. Different types of honey are different in terms of their usefulness and suitability for treatment. Honey refers to the product of the bee's vital activity, which is derived from the flower nectar. Even in ancient times people thought that honey had special healing properties. Many ancient peoples have respected the bee as a sacred insect. Honey normalizes the work of many internal organs, improves blood composition, immunity. It is a powerful source of energy, protects the body from aging. It is herbal, contains sugars, minerals, trace elements, vitamins, enzymes, biologically active substances, vitamins (А, В1, В2, В6, С, РР, К, Е, pantothenic acid, folic acid). Information sources indicate that honey contains up to 300 nutrients (manganese, silicon, aluminum, boron, chromium, copper, lithium, nickel, lead, tin), which significantly accelerates the metabolic reactions of the body. Honey contains 60 times more vitamin A than beef. Honey also contains organic acids (apple, wine, lemon, milk and oxal), biogenic stimulants (which have a positive effect on the body, activate vital functions). Honey is absorbed by the human body 100%, which cannot be said about other products. The following enzymes are found in honey: invertase, diastase, catalase, oxidase and proteolytic enzymes, all of which are essential for the normal functioning of the body. One of the most important properties of honey is that it never perishes. Honey is one of the products that can be stored for a long time, but remains useful and delicious. If the storage rules are observed, i.e. lid is closed and water does not get inside, you can keep delicious honey forever! In addition, honey is the oldest remedy for scratches. Therefore, even while eating confectionery, you can enhance your health. Just remember that purely natural honey has beneficial properties, which has not been treated in any thermal way, because it destroys its healing properties. Honey contains high-density lipoproteins, thus reduces cholesterol and protects against atherosclerosis. A natural antibiotic that kills pathogenic microbes and mushrooms is used to treat all inflammatory processes. Honey is a powerful sweetener that also helps in the treatment of infectious diseases due to its vitamins.